Join me next week (February 24th at 9 am Eastern) for a free webinar hosted by Lionbridge.
I'll be sharing what I've learned over the years as both a provider and buyer of language services.
If you're new to the language industry, you may find yourself confused by the terminology and overwhelmed by the myriad choices in services. If so, you're certainly not alone. I'll demystify the terminology and will also cover:
What questions you should ask any prospective language partner
What questions you should ask yourself before looking for a language provider
Why sample translations don't always work (and what you should ask for instead)
And for more information on finding a language services vendor, check out my book The Savvy Client's Guide to Translation Agencies.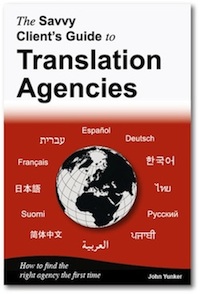 UPDATE: The webinar has been recorded and is available at: http://bit.ly/gwxz42