The iPhone is a global success story. And one of the reasons for this success can be attributed to the device's support for more than 30 languages.
But with the iPhone 4 update, Apple continues to push ahead on the global front. Multilingual Mac has documented these improvements, which include fonts that now display some Indic languages finally (though input methods are missing).
Two other features worth notice are:
Voice control in 24 languages
The emoji keyboard is now readily accessible. It had been hidden to non-JP users (and it's quite entertaining to play with)
But one improvement that I just picked up on — and it could have been added prior to iOS 4 — is the localization of "shortcut" top-level domain feature.
I'll demonstrate below.
First note my keyboard list (if only I were fluent in all of these languages!):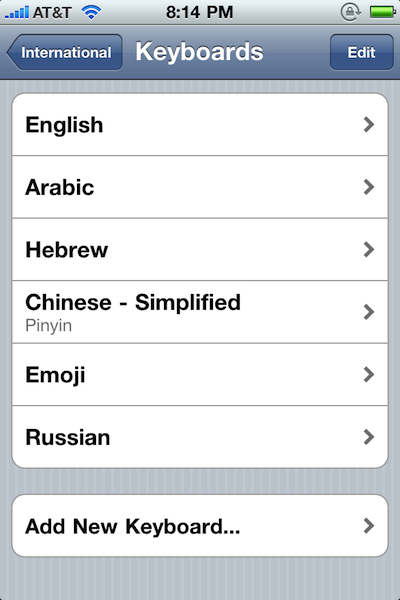 Now I open the Mail app.
Note  below how when I press and hold the ".com" key that I get a nice range of ccTLDs and other top-level domains to select from.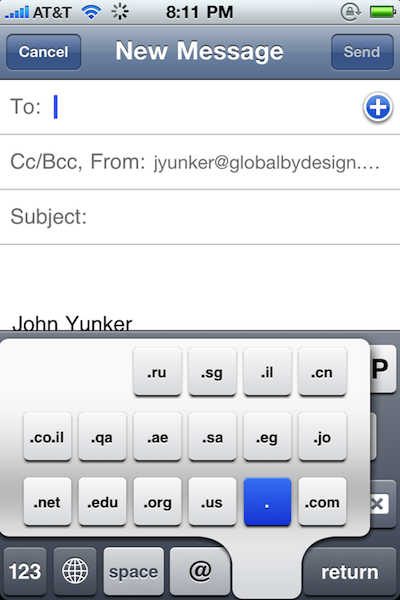 These domains vary based on my activated keyboards.
The more keyboards you activate, the more domains you have to select from.
This is a very nice touch — and I imagine that the Apple devs are right now working on adding IDNs to the mix…
What other international improvements have you noticed with the new iPhone?