Awhile back, Anirvan Chatterjee, founder of BookFinder. emailed me to ask if I knew of any other religion web site that supported more languages than the site of the Jehovah's Witnesses.
I didn't.
As shown in the screen grab below, the Jehovah's Witnesses site supports nearly 400 languages!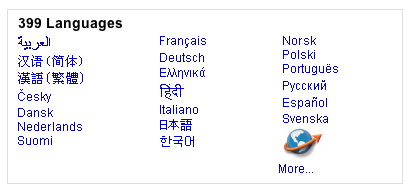 In comparison, Wikipedia supports only 272 languages.
Google.com supports only 125 languages.
(It feels strange say use "only" and "125 languages" in the same sentence)
I should be clear that I'm using a liberal definition of "supporting a language." Most of the languages supported by the Jehovah's site contains very little content — about a dozen or so pages. This is also static content — the stuff that doesn't require monthly or even annual updates. In fact, some of the content is so dated that much of the text is embedded within visuals — a very common practice back in the old days. Today, thanks to Unicode and Unicode-friendly fonts, modern OSs can display most of these languages — Windows far better than Mac.
Here's a sample page in Oriya: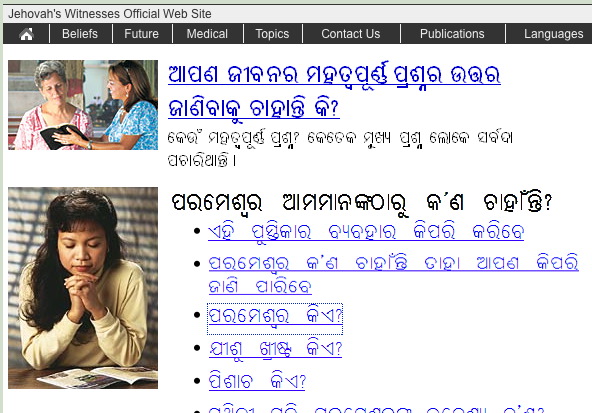 So given the wide range of languages, how does the site manage navigation?
It uses a "gateway" page (screen grab above) in just 20 languages. You have to click the cosmic globe icon to get the full list of languages.
Wisely, the site makes no attempt at a pull-down menu.
But what's most interesting about the Jehovah's Witnesses site is that it's still adding languages.
That's right.
Two months ago, when I first looked at the site, there were 292 languages. Now there are 299. Seven languages were added in two months — that's more languages than most companies add in a year. Granted, we're not talking about a lot of content, but you have to admire the initiative.
So how does this site compare with other religious web sites?
The Holy See supports just eight languages.
I also visited the Christian Scientist web site, as well as the two major Lutheran web sites and found only English.
Any other web sites I should mention? I doubt anyone is going to come close to challenging Jehovah's Witnesses, but I'd love to see a little more competition.