We included 12 automotive brands in the 2010 Web Globalization Report Card.
And of the 12, Volkswagen emerged on top.
Volkswagen is one of the more globally consistent automotive web sites. In general, automotive sites are behind the curve in global consistency, so it was nice to see so many country sites leveraging the same global design template. Shown below are VW's Italian and Finnish web sites: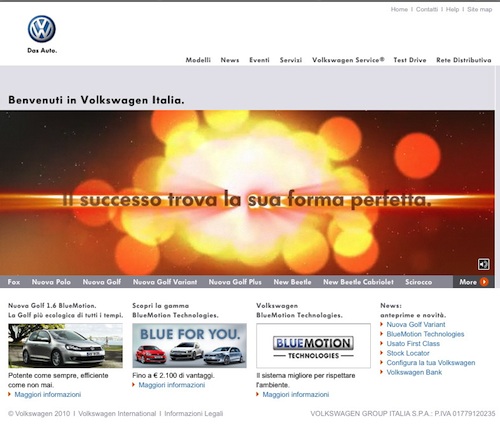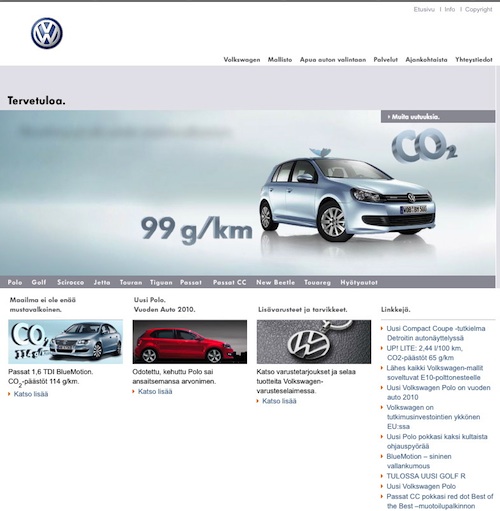 Volkswagen also leads the category in global navigation, with a global gateway that is visually engaging, albeit a bit over-engineered, shown below.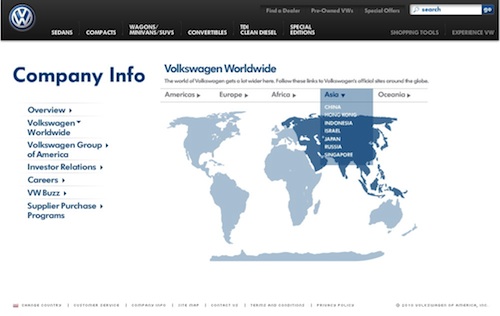 Volkswagen also began supporting geolocation within the past 18 months, which is great to see, as it helps most users bypass the global gateway altogether.
While Volkswagen is ahead of its peers, you may have noticed that there were no automotive companies in the top 25 list.
The automotive industry is generally behind the curve in web globalization. And I should note that automotive web sites generally are ahead of the curve in language support; Toyota, for example, supports 41 languages.
But languages alone do not make a great global web site. Volkswagen did not lead in languages, but it did lead in a number of other categories, making it the best automotive web site of 2010.
Here is a full list of automotive brands included in the 2010 Web Globalization Report Card:
Audi
BMW
Honda
Hyundai
Lexus
Mercedes
Mini
Nissan
Porsche
Smart
Toyota
Volkswagen