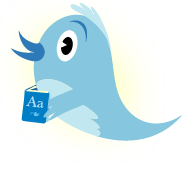 Was there any doubt that Twitter would not try to crowdsource its translations?
After Facebook proved that it could use volunteers to go from 1 to 100 languages in two years, it was just a matter of time before Twitter adopted the same model.
Twitter is starting out with the FIGS (French, Italian, German, and Spanish). And here is a video tutorial from Twitter that shows you how how the platform works.
Crowdsourcing is the new black these days, and much of it deserved. But despite the buzz, companies should be very careful before embracing the model.
Very few companies are translation-worthy

Wikipedia, Google, Facebook, TED, and Twitter have legions of fans who are happy to lend their translation skills. But few corporate sites or services are so translation worthy. And there's the ever-constant risk of translator backlash or burnout. We are in uncharted territory, and as more companies pursue this model, we're going to see more and more efforts backfire. Hey, maybe we'll even see companies begin to "pay" their volunteers in non-monetary forms of compensation. Which leads me to…
Crowdsourcing may not save you much on translation

The translation platform, the management of the platform, the management of the volunteers — they all require resources. And the odds are that you'll still want to retain professional translators to manage the amateurs, which is not a bad thing. There is a peace of mind in having a vendor who does this sort of thing for a living signing off on a newly localized web site before it goes live. In the end, translation crowdsourcing is not about saving money.
As far as I can tell, Twitter has only a thousand or so text strings that require translation. In the time the company devoted to building this translation platform, it could probably have had the site localized in 50 or more languages.
Over time there probably will be cost savings, but I would argue that cost savings should not be the motivator and probably wasn't the motivator for Twitter.
The platform companies develop to support crowdsourcing should have other measures of success, such as user engagement and testing, partner opportunities, and developer involvement.
For example, on the Twitter Translate information page, this paragraph jumped out at me:
Will my favorite applications be translated, too?
We know that Twitter is not all about Twitter.com, so our global reach shouldn't be limited to Twitter.com either. That's why we're planning to give our developer community access to the translation files so they can create wonderful apps that use the translations, too.
This is where Twitter is headed with the platform, as well as Facebook and Google. Once you have the platform, you can get creative with it — expand it to developers so that they can quickly localize their apps. You can even try to open up the platform for "partner" sites to use — which is what Facebook is now doing.
As companies comes to grips with social media, they are slowly learning to let go. Employees blog and tweet. Customers post content on corporate sites, and now they are co-creating the localized products.
The top-down localization model is giving way to the bottom-up model, and this is a profound change, even if it's limited to a handful of companies — albeit companies that represent a few hundred million users. I'm still trying to understand how far this phenomenon will go.