It was just over a year ago that Facebook started localizing itself for the world.
As I noted then, the company utilized crowdsourcing to spur its translation efforts. And though volunteers aren't the only people translating content, a year later, Facebook has done an impressive job of going global.
Om Malik recently reported some key stats from Facebook's global expansion efforts. Among them:
Facebook is available in 43 languages and is in the process of being translated into another 60 languages.
40 percent of Facebook users are not using English.
25,000 volunteers helped translate Facebook into Turkish last year, and there are now 9 million Turkish-language users signed up for Facebook.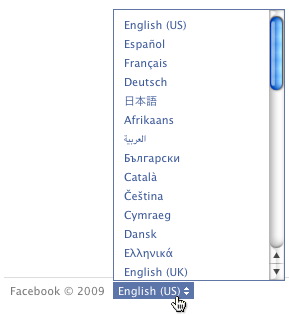 Even though only 43 languages are available now, if you add the Facebook Translations application (which i really recommend doing if you're into this sort of thing), you'll see the other 60 languages in the pipeline — many of which look pretty much good to go.

Here's what the Translations pull-down menu looks like: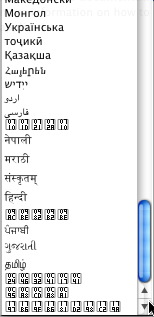 So many languages my computer is lacking for fonts.
It's a very safe bet to say that Facebook will support more than 100 languages a year from now.