The May/June issue of Global by Design is now out and our lead article focuses on companies offering multilingual blogs and RSS feeds. Companies on the forefront of doing so include Cisco, Deloitte, and Sun.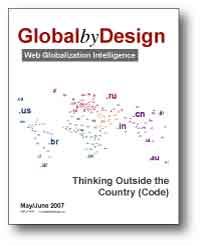 Sun features a blog written by CEO Jonathan Schwartz. What makes this blog unique is that it is translated into 10 languages. It is the only blog that I'm aware of that is translated into so many languages.
Most blogs are more local by nature. That is, they're written by people in a given country and consist of a fair amount of home-growth content — as opposed to simply translating everything churned out by HQ.
Here are two sites worth checking out: Dell's Chinese-language blog and Deloitte's country news feeds.
What I like about in-country blogs is how they give a voice to the local offices. They represent a form of real-time localization — something that merely translating the home page of a corporate Web site cannot accomplish. Naturally, there are plenty of risks associated with starting up in-country blogs — legal, for one — but these can be managed.
Finally, I've read a lot of rumors about FeedBurner and any number of companies seeking to buy the company. I use it and so do a growing number of corporations. But what I didn't realize until writing this article was there is a feature that FeedBurner offers that appeals to companies managing global blogs. They are the localized "Clear Feed" pages. These user-friendly subscription pages save companies from having to translate "How to subscribe" pages on their own. A very nice touch!
Now, back to the newsletter. Here is the TOC for the May/June issue:
– The Best Global Web Sites: Web Globalization Report Card highlight
– Blogging in Tongues: Multilingual blogs and feeds
– TM Meets MT: Notes from the Idiom WorldSummit
– Google Translator Tool: A new Windows widget
– Globalization Briefs: PayPal, VistaPrint
– Vendor News: SDL. GPI, Translations.com
– Map of the World Wide Web