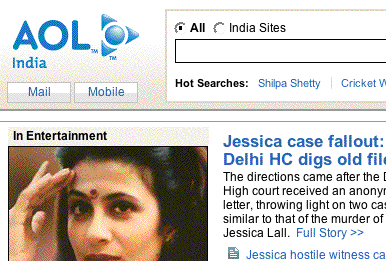 AOL has just gone live with its India Web portal as the company seeks to grab a growing slice of this rapidly growing market.
Says Ron Grant, AOL president and COO, "This is a very important — I would say critical — market for us. India has the highest priority in our international business."
AOL already has a customer service center in India and roughly 2,000 employees.
MSN, Yahoo! and Google already offer localized sites for India, and local players such as Rediff and Sify are well established.
But I wouldn't say that AOL is late to the party.
Depending on how you measure Internet penetration (particularly cyber cafes), India has between 20 and 50 million Internet users. This is a lot of people, but in a country of 1.1 billion, it's really not that many at all.
This party is just getting started.