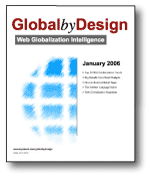 Global By Design is the name of a newsletter launched by Byte Level Research on January 2005. In a very short time it has become the world's most widely read Web globalization resource, used by executives at companies including FedEx, Toshiba, Caterpillar, Dow Corning, and Google.
And we're just getting started.
Starting today, Global By Design becomes more than a monthly newsletter. It becomes a Web-based membership portal. On this site you will find a mix of free and member-only content.
I'm still working on the member-only section and will let you know when we're close to launching it. In the meantime, I will be migrating the Web globalization blog at Byte Level Research over here.
If you have any questions or comments, please send them my way…