An article in the LA Times describes the phenomenal success of Gabriel Garcia Marquez' memior (the first of three books): "Vivir Para Contarla" (Living to Tell the Tale).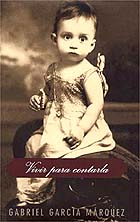 The big news is not that the book is selling wildly in the U.S. but that it is only currently available in Spanish and is selling wildly in the U.S. Here's what the editor said:
"We have published simultaneously in English and other languages before," said Garcia Marquez's U.S. editor, Ashbel Green. "But we've never done it this way before."
Could this be a sign of things to come? Between Marquez and Sandra Cisneros, I'd say that the U.S. publishing world is finally awakening to the 30 million readers in their native market. Another quote:
Publishing first in Spanish was "a brilliant stroke by Knopf," said Random House editor Jason Epstein. "I'm not in the least surprised that it has succeeded so strikingly, because there are now several million Spanish-speaking Americans, many of whom are quite obviously readers. It's virtually our second national language.
I read a statistic that said there would be 100 million Spanish speakers in the U.S. by 2050. By then, the U.S. could stand a shot at being the largest Spanish-speaking country in the world.