I'm pleased to announce the publication of the 2021 Web Globalization Report Card.
This is the 17th annual edition of the Report Card, and it reflects a challenging year. Yet there is much to be optimistic about as we look ahead.
But let's first look at the top 25 global websites:
Wikipedia
Google
Nestlé
Airbnb
Adobe
Philips
Uber
IKEA
Visa
Microsoft
Booking.com
Nikon
Deloitte
Church of Jesus Christ of Latter-day Saints
KPMG
Apple
NIVEA
Pfizer
Volvo Cars
Canon
American Express
Tinder
Sanofi
Cisco Systems
3M
There are many familiar faces on this list, and for good reason. These websites support an above-average number of languages as well as global consistency balanced against in-depth (and relevant) local content.
Wikipedia continues to support the most lightweight mobile website of any of the 150 websites studied and, at more than 300 languages, remains one of the most multilingual websites on the planet.
Google continues to lead all other corporations in languages (though global consistency and navigation remain areas of weakness). The ascent of Nestlé over the years illustrates that web globalization best practices are not exclusive to technology companies. Even an "old school" company can demonstrate a number of established best practices while investing in more than 40 languages.
There are a number of repeat visitors to this list, companies like Adobe, Airbnb, Philips, Cisco, IKEA and Microsoft (though Microsoft and Cisco dropped in ranking).
Apple is a new entrant; though the company still lags in global reach.
As a group, these 25 websites support an average of 62 languages.
Languages are where the "rubber meets the road." And, linguistically, we did see a number of companies drop languages last year, such Cisco and IBM. But a greater number of companies added languages last year, which kept the average steady at 33 languages.
So while COVID "flattened the language curve" over the past year, most companies held steady and are now poised to expand their global reach as we emerge from the pandemic.
Congratulations to the teams who have helped to make these websites world-ready and locally successful.
I'll have more to say in the days ahead. Please contact me if you have any questions.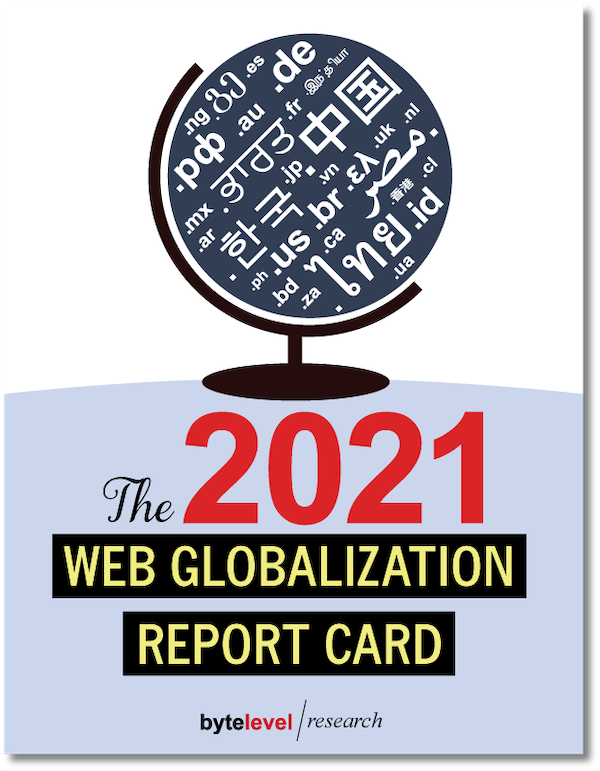 The 2021 Web Globalization Report Card