I began the Report Card back in 2003 because, at the time, there was nothing out there that focused specifically on the globalization and localization of websites. And, to be honest, most websites were not all that "global" yet; 10 languages was considered a big deal!
Flash forward to today (the 16th edition of the Web Globalization Report Card) and I'm excited to see the progress that has been made. And while I realize that languages alone do not a global website make, without them, there is no global website. Languages are a key metric of the Report Card, but just one of four major metrics; Global/Mobile Architecture, Localization and Social Media, and Global Navigation are also benchmarked. To be considered a leading global website, it must exhibit a number of well-established best practices.
With this in mind, I'm happy to announce the Top 10 websites this year, with Wikipedia emerging on top.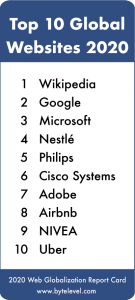 Congratulations to the teams who have helped to make these websites world-ready and locally successful. 
With support for more than 290 languages, Wikipedia illustrates that people around the world desire a truly multilingual internet. 
Other notable highlights from this list include:
Airbnb joined the top 10 list for the first time, after having doubled the linguistic reach of its website.
Nestlé leads all consumer goods companies with a world-ready global design and ongoing investment in localization.
Technology companies such as Microsoft, Cisco Systems, Siemens, and Adobe continued to demonstrate leadership in languages and global consistency, as well as increasing investments in localization.
NIVEA leads the cosmetics and skin care industry with support for 46 languages and culturally relevant visuals across many markets.
The top 10 websites support an average of 81 languages, nearly three times the average number of languages supported by all 150 websites.
This is just one of many takeaways from The 2020 Web Globalization Report Card, which published today. I'll have much more to say in the weeks ahead…