For the 2017 Web Globalization Report Card, we studied the following 14 automotive websites:
Audi
BMW
Chevrolet
Ford
Honda
Hyundai
Land Rover
Lexus
Mercedes
Mini
Nissan
Tesla
Toyota
Volkswagen
Historically, automotive websites have been strong on languages but weak on global consistency and global navigation. And while most automotive websites continue to struggle on these fronts, I was pleased to see Nissan's new global website design, a big reason why Nissan emerged number one for the first time.
BMW was the leader last year, with support for 41 languages and average global consistency. But Nissan's new web design is more consistent and generally exhibits greater depth of localization. While many automakers do exhibit some degree of global consistency within a region, such as within Europe, it's rare to see global consistency across regions. Shown below are Nissan's Germany and Brazil home pages: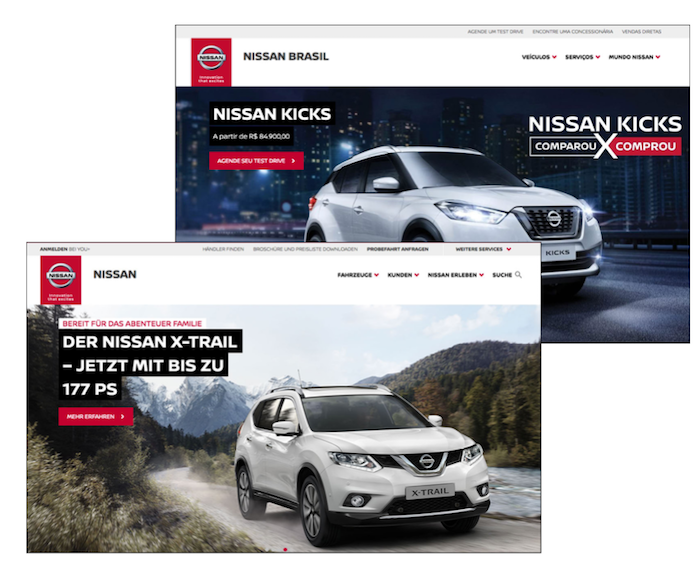 You'll find few automotive websites that support consistency to this degree between these two distinct markets.
Nissan added a language last year and is now is tied with Honda for the lead in languages, at an impressive 46 languages. Nissan also stands apart in its support for local-language social feeds. For instance, here is an excerpt from the Spain home page: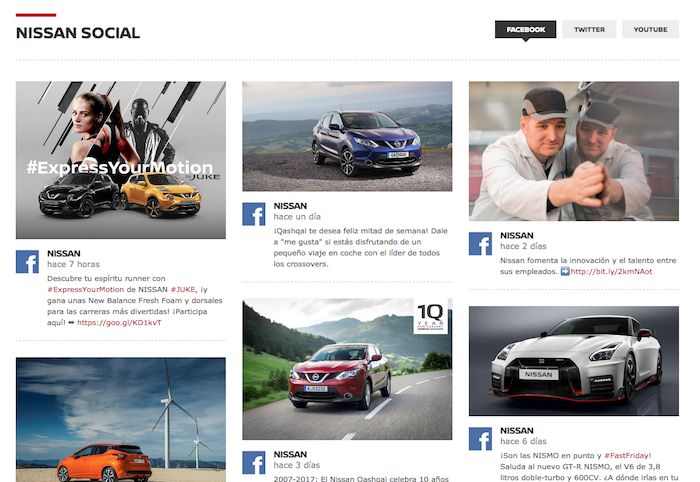 When it comes to global navigation, sadly, no automotive website stands apart. Nissan, like many companies, incorrectly relies on flags. But it does do a very good job of supporting country codes.
What's the best global website among American-based automotive companies? That would be Chevrolet. While many GB brands are, globally speaking, a mess, Chevrolet does exhibit a number of global best practices. It also does a good job of supporting Spanish for the US market:
Tesla was a new addition to the Report Card this year. And while the website does support strong global consistency, it lags in languages and in global navigation — also relying heavily on flags. Here's the global gateway: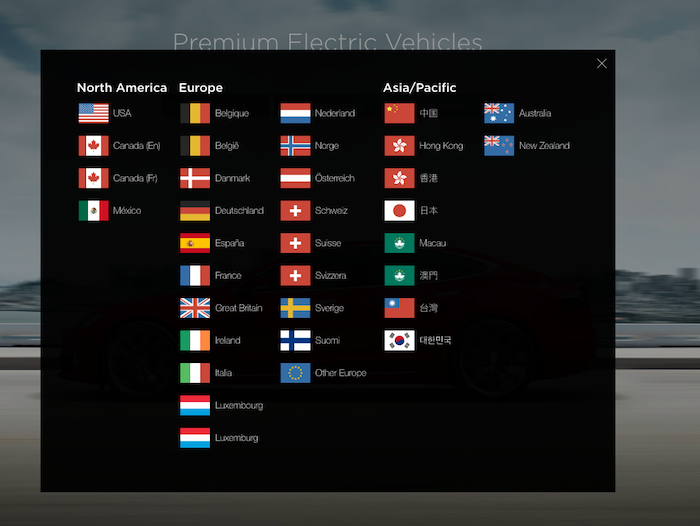 Hyundai finished last in our ranking this year, with low scores across the board, with the exception of global reach (languages). Note that Hyundai supports an impressive 43 languages, which goes to show that languages alone do not make for a successful global website.
Automotive companies are highly decentralized organizations with independent web teams and budgets, which often results in websites that share few design elements across country/region websites. But Nissan has taken a promising step forward, one that I believe other automakers are sure to follow.
For more information, check out the Web Globalization Report Card. It includes more than 25 pages of automotive website profiles.