For the 2017 Web Globalization Report Card, I benchmarked the following 9 retail websites:
H&M
IKEA
LUSH
McDonald's
MUJI
Starbucks
UNIQLO
Walmart
Zara
For the purposes of this report, the retail segment includes only those companies that support physical retail locations within the markets they serve. While Amazon is in the early stages of rolling out retail locations, I still view Amazon as more of a web services company than a conventional retail company and is therefore benchmarked against sites such as eBay and Google. The reason for this distinction is to focus on those companies that are already physically distributed around the world and may have in-country offices supporting unique country websites.
One of the great web globalization challenges that global retail organizations face is in aligning disparate offices and cultures on shared design templates — a goal that has so far eluded companies such as McDonald's and Walmart. IKEA emerged as number one this year, edging out Starbucks. 
IKEA added two languages over the past year, raising its language total to 34; only McDonald's supports more languages in this category.
IKEA continues to do an excellent job of supporting global consistency and depth of localization. But IKEA made a key improvement over the past year that I want to point out.
First, a bit of backstory. IKEA was one of the first companies to use a splash global gateway and continued to use one up until last year, shown here: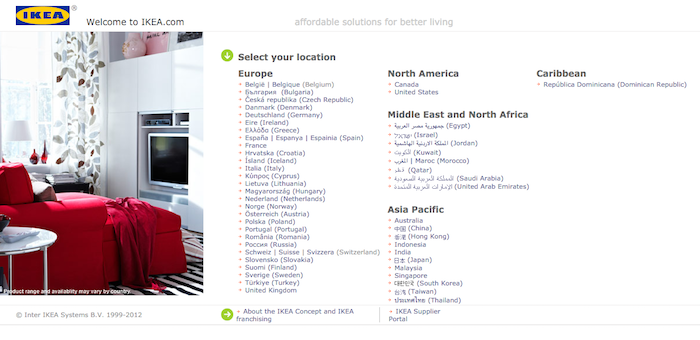 In the early days of global websites, IKEA was smart to use a splash global gateway. Geolocation was not yet a proven technology, so the splash page was the ideal way to ensure that visitors from around the world to the .com domain discovered their local websites.
But times have changed and people are impatient. They don't want to land on a splash global gateway every time they arrive at your global home page. That's where geolocation comes in.
Fortunately, IKEA isnow uses geolocation to greet you in your locale.
Now, when someone from the US visits IKEA.com he or she sees this page: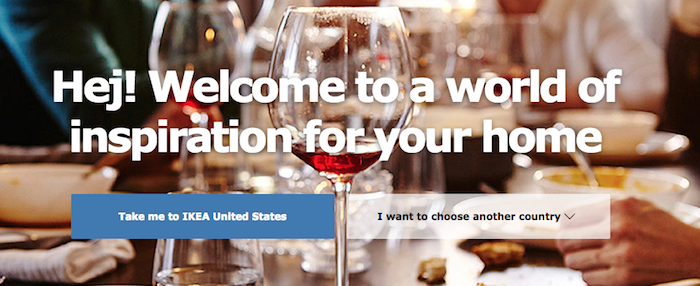 And customers in the United Kingdom see this landing page: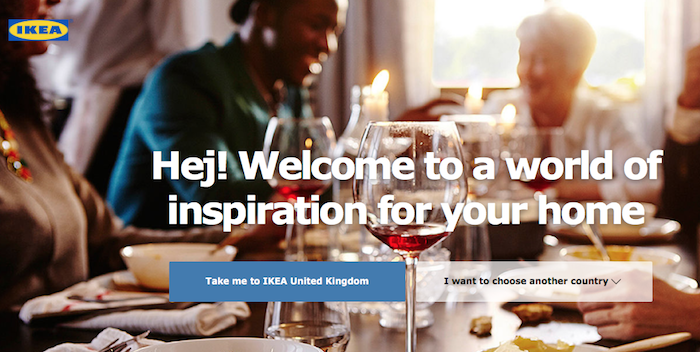 IKEA's global gateway still could use improvement (an over reliance on flags). But this move to geolocation is a big step forward in global usability and a reason why IKEA is now the retail leader.
LUSH also relies on geolocation. Shown below is the landing page that LUSH greets Japanese visitors with. Unfortunately, language support is absent.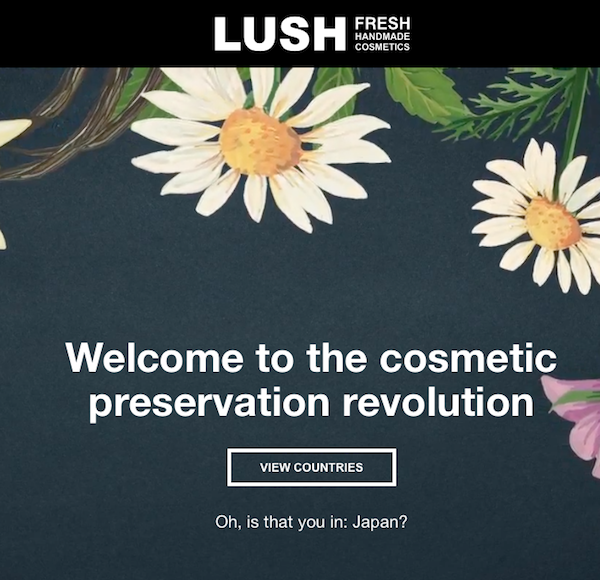 McDonald's is the retail language leader at 41 languages yet still lags most global websites in  consistency. Shown here are three country home pages to give you some idea of how widely designs vary.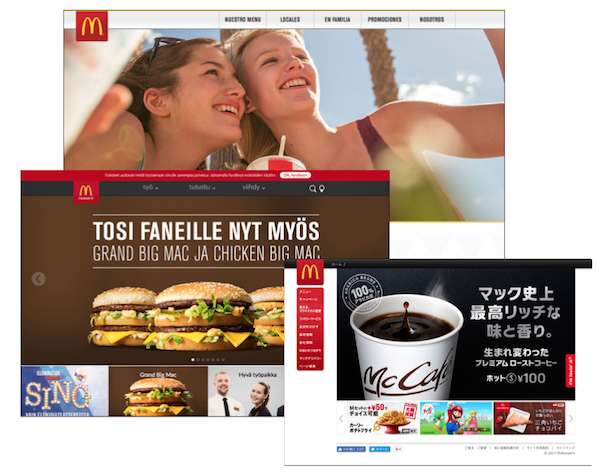 McDonald's could save significant resources by relying on global templates. This would benefit users as well as they would see consistent navigation and branding when they navigate between the .com website and the local websites (which is a common scenario.)
Walmart continues to lag the field in web globalization best practices. But there are small signs of progress. For instance, Walmart now uses geolocation to auto-direct users to local websites. So a web user in Brazil can enter walmart.com and be taken to the Brazil website. While I applaud the use of geolocation, the failure to include a visual global gateway in the header of every web page is dangerous because users cannot easily override the geolocated setting.
PS: All purchasers of the Web Globalization Report Card receive signed copies of
Think Outside the Country
, among other goodies!