For the past 12 years, the Web Globalization Report Card has closely tracked the languages supported by the leading global websites, including companies such as Apple, IBM, 3M, GE, Microsoft, and Google.
This year, the average number of languages supported by these websites surpassed 30 languages, up from 14 languages in 2006.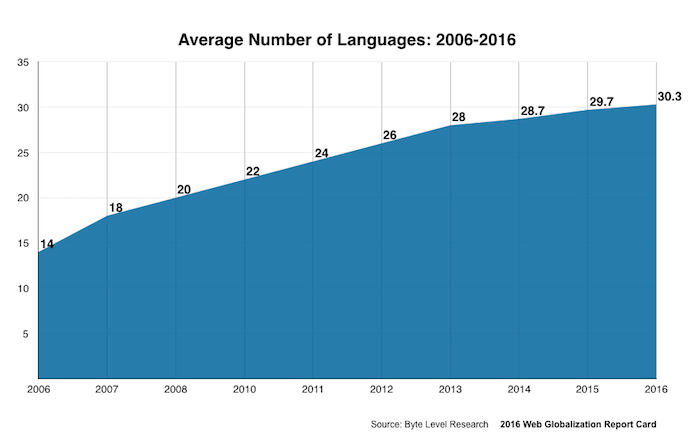 If you want to reach 95% of the world's 3.3 billion Internet users your website needs to support roughly 45 languages.
It's no accident that Google Translate now supports more than 100 languages — reaching 99% of all Internet users.
The language race isn't unique to tech companies.
Here are the language totals from a number of non-tech websites (US English excluded):
Website & Languages
VOA News: 47
Coca-Cola: 44
Honda: 44
Nissan: 44
DHL 43
NIVEA: 43
Avon: 42
American Express: 41
BMW: 41
Have you conducted a competitive language audit recently? You might be surprised by what you find.
What I'm finding is that regardless of industry sector, companies are adding languages. Growth might just be a language or two a year, but it is happening. And, unless you're keeping a close eye on languages, you can overlook it.
Languages represent growth. If your goal is to succeed globally, you're going to be investing in languages — lots of them!
About the Web Globalization Report Card
For 2016, Byte Level Research studied 150 global websites across 15 industry sectors, including more than 80% of the Interbrand Best Global Brands.
Websites were graded according to the number of languages supported, global navigation, global and mobile website architecture, and localization. The top 25 websites overall include companies such as Google, Starbucks, Hotels.com, and Facebook. Link