For the 2015 Web Globalization Report Card, we studied 14 automotive manufacturers and one supplier (Michelin).
Audi
BMW
Chevrolet
Ford
Goodyear
Honda
Hyundai
Land Rover
Lexus
Mercedes
Michelin
Mini
Nissan
Toyota
Volkswagen
Out of those 15 websites, BMW and Chevrolet emerged in a numerical tie for number one.
BMW and Chevrolet both support an impressive 41 languages, in addition to English. Chevrolet added three languages over the past year, including Indonesian.
Did you know that Chevrolet also supports a Georgian website? Few companies have yet tackled a Georgian (and in country) website.
Toyota leads this category in languages but BMW and Chevy do a much better job supporting global consistency across its many localized websites.
BMW and Chevy both support geolocation, which is a positive trend, though they deploy it in different fashions.
Here is the screen that BMW displays to US-based web visitors to the BMW.com website; BMW wants these visitors to go to BMWusa.com.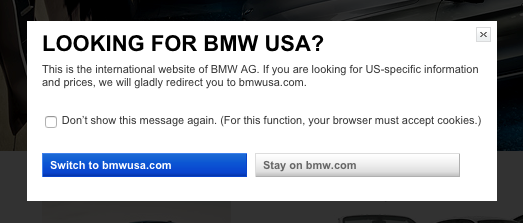 This, by the way, raises interesting questions regarding the .com domain, which I plan to address in a later post.
Both websites respond well to mobile devices. Here is the Chevy home page on a smartphone: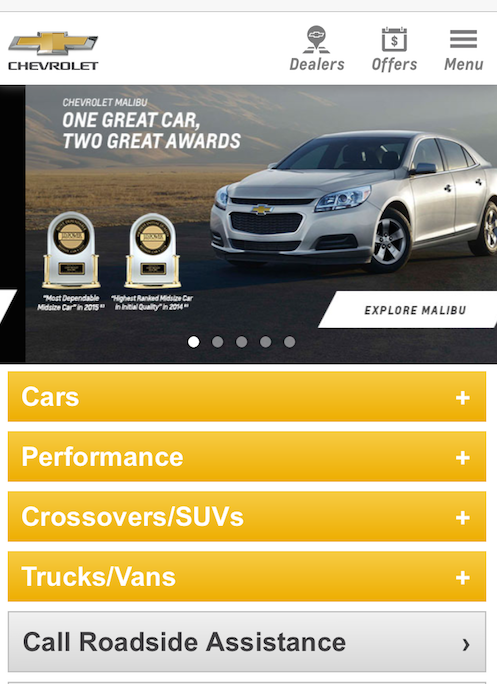 Not all automotive websites are responsive yet, so kudos for BMW and Chevrolet.
Now, for negatives.
Neither BMW nor Chevrolet support visual global gateways effectively — few automotive websites do. Global consistency still has room for improvement as well. And depth of localization is still weak on many country websites.
For these reasons, and a few others, you will not find any automotive company in the overall Top 25 list.
If there is one common theme that runs through many of these websites it's that the regional and country operations aren't on the same page with headquarters. I know this because I've spoken with a number of these companies and am always struck by the tension between the various web and marketing teams across various regions. And this is unfortunate because there is no reason there couldn't be four or five automotive companies in our top 25 list.
I think this will change. Maybe not this year year, but definitely over the next three years. There is much happening behind the scenes right now.