Four years ago, for the Web Globalization Report Card, I began noting (and rewarding) those websites that supported mobile devices. Even then one could easily see the virtual grounds shifting in favor of mobile devices. But at the time, only about 20% of the websites studied supported mobile devices.
In this year's Report Card, the majority of websites are now mobile friendly. Over the past two years, I've witnessed a flurry of newly responsive web designs from a diverse range of companies including Philips, Merck, VMware and Pepsi.
Even Apple now supports a responsive website. Shown below are before and after screen grabs: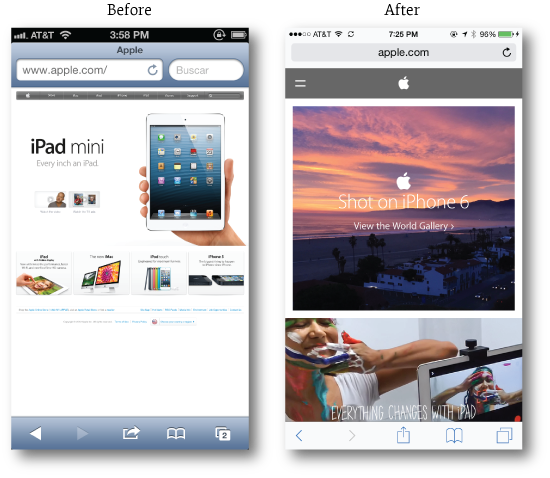 If your company hasn't yet made the leap to mobile, now is the time to accelerate your plans — unless you don't care much for your search ranking.
Google has made it abundantly clear that websites that do not support mobile devices are going to suffer.
Beginning April 21st.
According to Google:
Starting April 21, we will be expanding our use of mobile-friendliness as a ranking signal. This change will affect mobile searches in all languages worldwide and will have a significant impact in our search results. Consequently, users will find it easier to get relevant, high quality search results that are optimized for their devices.
All languages. All regions. This makes great sense given that markets like China and Indonesia are overwhelmingly experiencing the Internet via mobile devices.
Google wants to remain relevant to mobile users which means your website needs to remain relevant to Google.
Which means, ultimately, remaining relevant to your web users. Particularly if you plan to succeed globally.