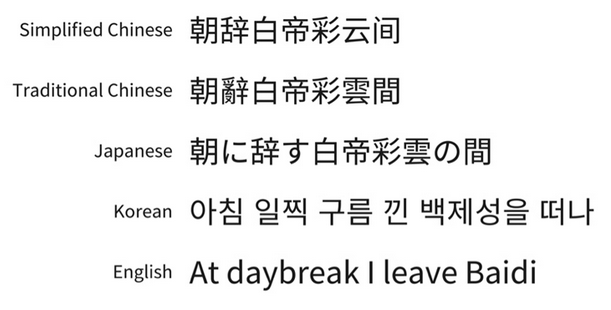 This is the result of a massive investment of resources and expertise — and I'm excited they've made it open source.
From Adobe:
Source Han Sans, available in seven weights, is a typeface family which provides full support for Japanese, Korean, Traditional Chinese, and Simplified Chinese, all in one font. It also includes Latin, Greek, and Cyrillic glyphs from our popular Source Sans family. All told, each font weight in the family has a total of 65,535 glyphs (the maximum supported in the OpenType format), and the entire family rounds out at just under half a million total glyphs. Never before has a typeface family of this magnitude, development scope, and value been offered via open source — which makes it a no-cost solution for designers, developers, and everyday users who need a font supporting a broad set of languages.
Google has named the font Noto Sans.