Interesting article in the WSJ (sub. required) about Alan Batey, the new global brand chief of Chevrolet.
From the article:
Mr. Batey says he wants to unify the brand's strategy. "We used to operate regionally with each country or local area doing their own thing," Mr. Batey said. "That's over. From now on we will operate as one."

Among the changes: Mr. Batey this year introduced Chevrolet's first global advertising slogan "Find New Roads," due to its ease in translation. The Chevrolet design team, at 10 different studios from around the world, also now meet daily via virtual reality screens and conference calls to shape future Chevrolet vehicles.
While the article is primarily about branding issues globally, I can vouch for the fact that there is little global consistency in the Chevrolet (or GM) websites.
Based on the 2013 Report Card, the Chevrolet website was ranked #89 out of 150 websites, due in large part to lack of any one global design template. And given that Chevrolet supports more than 34 languages, a global template is not only essential to global branding but global efficiency.
Here is the Chevrolet.com home page:
And the China home page: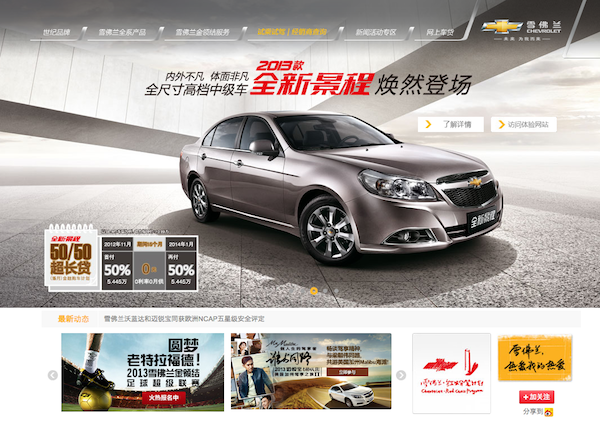 China is an extreme example.
The European sites are visually more in line with Chevy.com, though the underlying template is  quite a bit different.
Here is Germany:

Global inconsistency is not a challenge unique to Chevy. Most automotive websites struggle with managing local websites effectively, particularly companies like Toyota and Honda. The top three automotive websites — in terms of global consistency — are BMW, Mini, and Audi.
You can read more in our Automotive Report.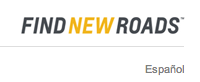 Regarding the global slogan — Find New Roads — I'm not sure I agree that companies need to select slogans that can be translated easily. After all, Nike's Just Do It slogan was near-impossible to faithfully translate and that didn't stop the company from using it globally.
My recommendation is to avoid a global slogan altogether.
What is Starbucks' global slogan? What is Apple's global slogan? I don't believe either company has one.
Let your products and services be your slogan. And put the money saved into that global website redesign.