Verisign published its quarterly industry brief a few weeks ago.
In it, the guide includes the top 10 ccTLDs, reprinted below: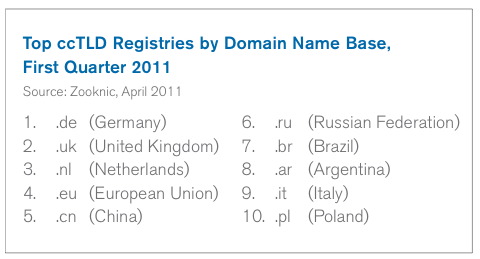 There are now more than 81 million registered ccTLD domains, which comprise about 40% of all registered domain names. Verisign says ccTLD registrations increased nearly 8% over last year. This is impressive given that China has really cracked down on .cn registrations over the past two years. For a brief period of time China was the leading country code, though a large percentage of these registrations were squatters. Here are the top 10 ccTLDs in late 2009: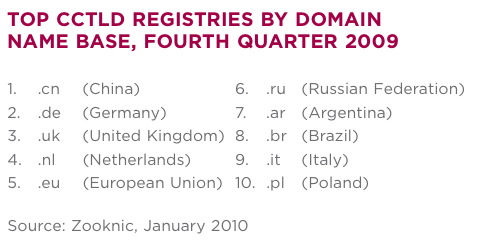 So Germany is now firmly back in first place and China has fallen to fifth place.
But China may actually be in sixth place if you include IDNs.
I don't believe IDN registrations are included in the ccTLD counts. For most countries, this isn't a big deal because ccTLDs counts are quite low. But then there is Russia, with more than 800,000 registrations for .РФ. If you were to bundle IDN and ccTLD counts together, then Russia would surpass China and squeeze into fifth place.