As I prepare to hop on a plane to Europe, I'd like to focus briefly on the airline industry.
I should preface this post by saying that I find "meta" travel sites like Kayak and Sidestep much easier to use than any airline web site. A few years of recession coupled with the airlines' collective descent into charge-for-everything madness appears to have stalled any major usability improvements. And yet improvements were made, at least in web globalization, a few of which I will highlight.
We included nine airline web sites in the 2010 Web Globalization Report Card.
The Web Globalization Report Card is an annual benchmark of how effectively companies internationalize and localize their web sites and applications for the world.
Of the nine web sites studied, American Airlines narrowly edged out Emirates Airlines for the top spot.
Since 2008, American has added four languages and has begun using geolocation to improve global navigation. The site also leverages a fairly consistent and locally adaptable design template. Shown below are the home pages for Japan and Russia: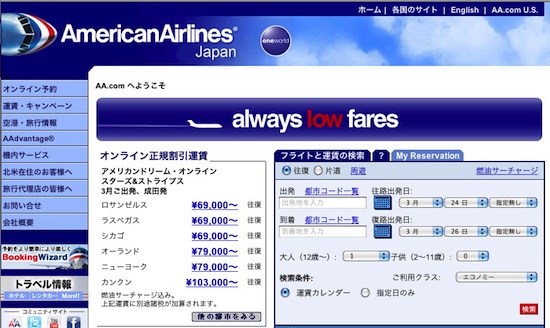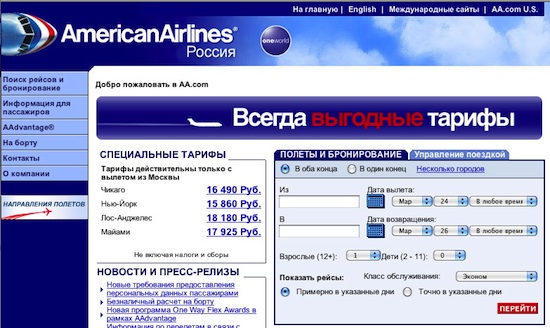 The designs do exhibit one common localization problem — embedded text.
For example, you may have noticed on the Japanese site that the text string "always low fares" was not translated. This text string is embedded within a visual element — which is generally more difficult (and expensive) to localize. I'm assuming this text string wasn't within the localization budget.
A more efficient alternative is to simply keep text out of the visual elements (relying on Javascript and CSS to create an embedded appearance). Doing so allows all text to be more easily extracted for localization.
In terms of global gateways, I give Emirates a slight edge: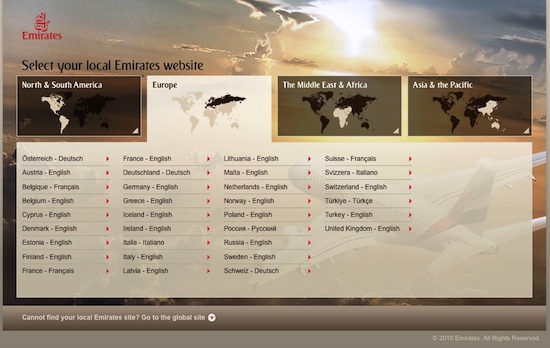 Emirates uses this gateway as a landing page. Once a selection is made, the preference is captured as a cookie so the user doesn't have to land on this page repeatedly. The languages supported by each localized site are evident and, more important, properly localized.
Organizing countries by region can be a complex and geopolitically sensitive issue — particularly with countries that may be viewed as straddling two regions. But I thought Emirates did a good job overall of managing this issue.
There are no airlines web sites in the top 25, so there is clearly room for improvement — but American and Emirates are out in front.
Here are the nine airline sites included in the 2010 Web Globalization Report Card:
Air France
American Airlines
British Airways
Continental
Emirates
KLM
Northwest Airlines
Ryanair
United Airlines