We included nine hotel and resort brands in the 2010 Web Globalization Report Card.
The Web Globalization Report Card is an annual benchmark of how effectively companies internationalize and localize their web sites and applications for the world. It is now in its sixth edition.
Of the nine hotel/resort companies studied, the InterContinental Hotels Group emerged on top.
The corporate home page, www.ihg.com, is included below: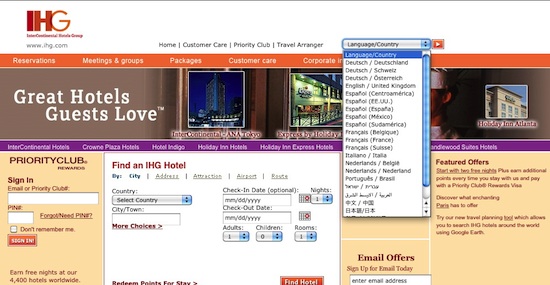 InterContinental is a conglomerate of seven hotel brands, including Holiday Inn and Crowne Plaza.
The company does a nice job of positioning its global gateway in the upper right corner of not only its corporate home page, but also the home pages of its many brands.
Here is Crowne Plaza:

InterContinental:

And Holiday Inn:

There is still plenty of room for improvement. Notice the reference to "Queen's English" in the Holiday Inn gateway. I've rarely seen this description used in a global gateway and I'd recommend against it. "British English" or "English UK" is more common.
Even though InterContinental emerged on top, it did not lead by much. Accor, Radisson, and Starwood all finished within a few points of it.
The hotel industry as a whole is not one I would call a leader in web globalization. Not yet.
Nearly all of the companies could improve on global consistency as well as depth of localization. I also found it odd that a few of the most global hotel chains supported so few languages. Hotel web sites support an average of just 10 languages — less than half the average of all 225 web sites studied.
Best Western stood apart, however, with support for more than 20 languages.
We did notice a number of incremental improvements since the last Report Card. For instance, two of the hotel web sites have since added support for geolocation. And I'm optimistic that we'll see language growth accelerate this year as hotels step up their efforts to attract tourists from around the world.
There is reason for optimism — the World Tourism Organization forecasts growth in 2010, with more than one billion international arrivals.
Here is the full list of hotel/resorts included in the 2010 Web Globalization Report Card:
Accor Hotels
Best Western
Four Seasons
Hilton
Hyatt
InterContinental Hotels
Marriott
Radisson
Starwood Hotels