The September/October issue of Global by Design is now out.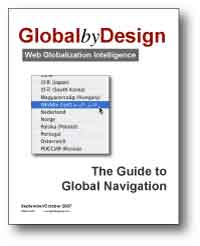 Our feature article is on established and emerging best practices in global navigation. We note improvements made recently by companies such as eBay and GE. And we include a checklist that you can use when developing your company's global gateway strategy.
Here is what else is included in this issue:
The Guide to Global Navigation: The best sites and best practices
Global Domain Names Update: Of IDNs and ccTLDs
Connecting the Global Dots: An interview with Clay Tablet
Google's Global Developments: From India to Apps
Idiom WorldServer 9: Software highlights
Globalization Briefs: Of Arrows and Web Localization
Vendor News: Molecular, SDL, Lionbridge
If you're interested in subscribing to Global by Design, please contact us.
Also, if you want the complete guide on global navigation best practices, check out The Art of the Global Gateway.