When it comes to Web globalization, localizing your search engine is one of those projects that generally gets pushed down the to-do list, because it's, well, a minor nightmare to accomplish. Unless you've got a search appliance that self-optimizes itself to all the nuances of how users in different cultures and countries search (is there one?) then you've got a lot of manual work ahead of you.
But according to this Forrester study companies should be putting the work in. The study "determined that European consumers new to a site most often go straight to site search, and if they don't find what they want immediately, an average 13% of consumers will go to another site — more than that in southern European counties."
So, step one is to make sure your global design template has a search window clearly displayed– ideally in the upper right corner (next to the global gateway).
Next, you can focus on optimizing the engine for the many ways users search on your products in that market. The UK is a classic example. A few years back I visited Lands' End UK and entered British terms like knickers, trainers, and jumpers just to see what came up. Nothing did.
So I just visited again today and "trainers" brought up some snow boots — not exactly a match I'd say. And jumpers brought up shoes, not sweaters.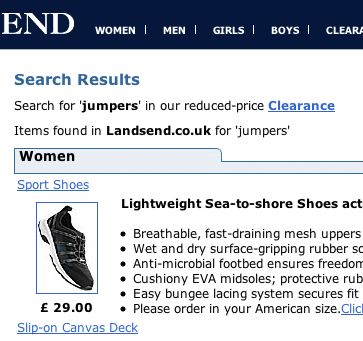 Hey, this stuff ain't easy, I know. I'm not trying to pick on Lands' End. Hopefully the Forrester report will trigger more companies to invest in this area.
April 19th UPDATE: I've just been told that the Lands' End search engine was at one point localized for the UK but there was a glitch recently. I'll report back when the engine is back up again…