In 2001, the McDonald's in Greece launched the "Greek Mac." The Greek Mac consists of two burgers wrapped in a pita with yogurt sauce, tomato slices, iceberg lettuce and onions.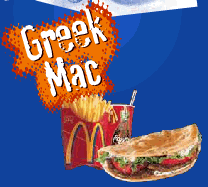 According to a recent press release, McDonald's claims the sandwich is becoming just as popular as its Big Mac counterpoart. Not only that, but its popularity has grown beyond national borders. It is now served in Belgium, the Czech Republic, Spain, Cyprus and Portugal. I would bet that Melbourne, Australia, with its large Greek population, might not be far behind.
And here's a quote that pretty much sums up the challenges and opportunities of doing business globally…
"The Greek Mac sandwich is a delicious example of how we as an international company cater to local tastes while maintaining the universal appeal of our brand," said Stavros Petropoulos, Managing Director of McDonald's Hellas.
Question: how long before the Greek Mac hits North American shores?
PS: Even McDonald's boilerplate company description emphasizes the "localness" of the company:
McDonald's is the world's leading foodservice retailer with more than 30,000 restaurants, serving nearly 46 million people each day in over 100 countries. More than 80 percent of McDonald's restaurants around the world are owned and operated by independent, local businessmen and women.