Starbucks continues its global expansion with its first French locations, set to open in early 2004. Many pundits have warned that Starbucks will face anti-American resistance throughout the country.
I disagree. Starbucks will succees in Paris, just as it has in other parts of Europe, such as Spain, Austria, Germany and Switzerland. This is because Starbucks isn't perceived as a typical American retail chain; in fact, it now goes out of its way not to market itself even as a Seattle-based chain. Here is it's "About Us" statement:
What we are all about

Starbucks purchases and roasts high-quality whole bean coffees and sells them along with fresh, rich-brewed, Italian style espresso beverages, a variety of pastries and confections, and coffee-related accessories and equipment — primarily through its company-operated retail stores. In addition to sales through our company-operated retail stores, Starbucks sells whole bean coffees through a specialty sales group and supermarkets. Additionally, Starbucks produces and sells bottled Frappuccino® coffee drink and a line of premium ice creams through its joint venture partnerships and offers a line of innovative premium teas produced by its wholly owned subsidiary, Tazo Tea Company. The Company's objective is to establish Starbucks as the most recognized and respected brand in the world.
Starbucks, with 7,000 locations around the world, knows full well that it needs a global market in order to continue its rapid growth. As such, it will sidestep many of the potholes that other American multinationals have fallen into as they expanded abroad. McDonald's initially succeeded abroad as a uniquely American company, which is one (of many) reasons today why it is also struggling abroad. Starbucks won't face this legacy issue.
However, Starbucks will need to do a better job of designing a global gateway. As shown here, the gateway is stuck at the bottom of the left-hand navigation column.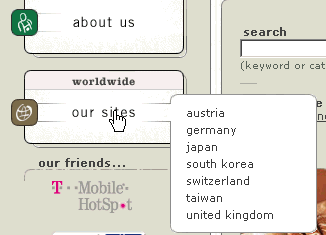 I predict that a year from now this global gateway will be moved to the very top of the page. For more information on global gateways, check out this latest presentation.