The computer industry is in a slump. People aren't upgrading their computers every 18 months and companies like Dell and Intel are rightly worried. Yet there is still hope to be had in "emerging markets." Here's what the president of Intel recently told the NY Times:
"We believe that 50 percent of all the incremental units sold in the next five years will come from these markets," he said. There are now about 500 million personal computers in the world, he said, and with the help of the emerging markets the industry, over a long period, could still expect to see double-digit growth outside the industrial world."
Now let's take a look at Intel's Web site and see how well it addresses these emerging markets. Here is the global gateway: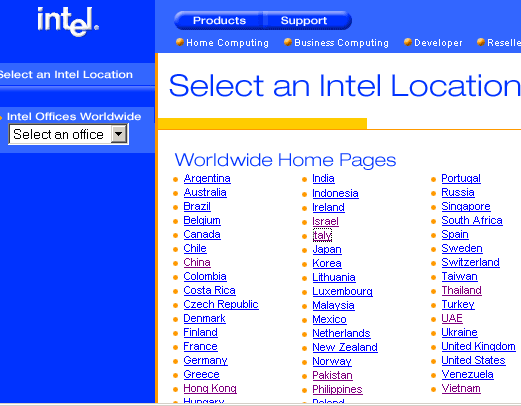 It's got about 36 "worldwide sites" from which to choose. And while this certainly sounds like a great many sites, if Intel's goal is to target emerging markets, it still has a long way to go. There are only three countries from Africa/Middle East represented and only seven from all of Latin America. Where's Ecuador, Nigeria, Slovakia?
Emerging markets do indeed promise significant growth opportunities, but too often I find that major companies don't invest enough resources in trying to reach these markets. Small countries don't promise major returns on investment so it's always more difficult ot justify Web localization costs. Nevertheless, to overlook a market in this economy is to overlook short-term sales and long-term success. As for Intel, they have indeed invested significantly in Web globalization, yet in many ways they've only just begun.