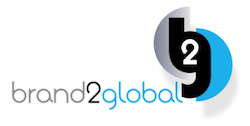 I'm pleased to be participating in the new Brand2Global Conference in London on Sept. 16-18.
This is a unique event, focused on global marketing, branding, and expanding market share.
I'll be teaching a one-day Mastering Web Globalization Seminar on the 16th. The seminar will include two parts:
Think Outside the Country: An introduction to web and software globalization
Benchmarking Global Websites: An interactive analysis of the leading global websites, and why – and how to benchmark your own website
I'll also be speaking the following day during the conference. Speakers will be representing a wide range of companies, including Facebook, SAP, KLM, Shiseido, and Google.
If you can attend, I hope you can!
Register now now and receive the early bird rate.
And let me know if you have any questions…
(Visited 9 times, 1 visits today)